The benefits of CBD for dogs are much the same as those for their humans.
CBD's benefits for dogs are receiving the same attention as they do for their human masters. CBD can help in the treatment of physiological and psychological ailments, such as osteoarthritis and separation anxiety.
Stories are all over the internet about dog owners giving their pets CBD for treat pain, illness, and end-of-life care. For example, a 12-year-old dog was diagnosed with Cushing's Disease. Her owners were faced with a difficult choice: go with the Western medical approach or try CBD as an alternative.
The traditional method meant treating the symptoms, not curing the disease. The side effects included nausea and vomiting, and the treatment wouldn't prolong her life. Also, the treatment would be expensive and have little to show for it. Instead, the dog's owners decided to try CD and other supplements, resulting in decreased symptoms, a better quality of life, and considerably less expense.
As with our human family members, we will do our utmost for our canine members' comfort and well-being. Basically, we're willing to try almost anything for their care and comfort. Fortunately, early science is pointing us toward CBD.
A recent survey found dog owners support the use of cannabinoid-based supplements, in the form of treats and other products. Anecdotal evidence seems to support owners' belief that CBD plays a significant role in relieving pain, inflammation, and anxiety.
CBD for dogs comes in a variety of forms; the best is derived from hemp, which has less than 0.3% THC by volume. The carrier oil can often be cod liver oil.CBD oil for dogs often has added flavors to make it more palatable for our canine friends. The oil, which can be mixed with food, also comes in the form of treats, biscuits, and soft chews.
It's important not to give dogs CBD with high concentrations of THC (marijuana's psychoactive component) because of its toxic effect on dogs.
The list of the potential benefits of giving your four-legged friend CBD  is long:
 Physiological benefits of CBD for canines
               Limping

               Joint pain

               Inflammation

               Seizures

               Effects of aging
Psychological benefits of CBD for dogs
               Social anxiety

               Separation anxiety

               Travel stress

               Restless nights

               End-of-life care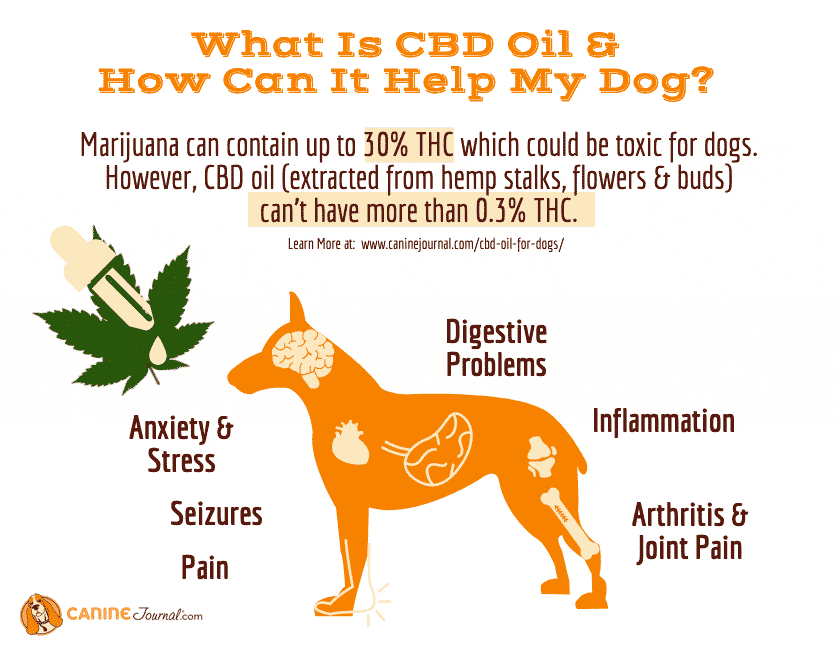 Source: CanineJournal.com
Osteoarthritis & CBD for dogs
A study by Cornell University's vet school found CBD oil could provide pain relief and improve mobility in dogs with osteoarthritis. In a double-blind placebo trial, 16 dogs received either a placebo or CBD oil from industrial hemp. (In a double-blind trial, neither the vet nor the dogs' owners knew which dog was receiving CBD and which was receiving the placebo.)
The dogs were treated with either the placebo or the CBD every 12 hours for 4 weeks. Vets and owners assessed the dogs' mobility/activity before the trial, at 2 weeks, and again at 4 weeks. Because dogs cannot "report" pain, the questionnaires were the measure for pain levels and mobility.
The results? More than 80% of the dogs taking CBD oil showed "significant improvement in pain levels and quality of life." Even better, there were negligible side effects.
Anti-inflammatory benefits of CBD for dogs
Several other studies confirm CBD's advantages as an anti-inflammatory. When taken orally or applied topically, the studies seem to support claims for fighting inflammation caused by osteoarthritis. Some evidence suggests that CBD enhances the effects of opioids and NSAIDS, making it possible to reduce dosage levels of these medications.
Pain management
Canine pain has many causes. It can be acute, as in the case of injury or post-surgery or chronic/progressive, such as hip dysplasia and intervertebral disc disease. Invariably, pain management includes powerful pain medications like opioids. While effective, they have adverse side effects, including dependency (yes, dogs can develop addictions), liver damage, and risk of overdose.
As explained above, CBD can improve the efficacy of pain relievers, allowing lower doses. Also, several studies have shown CBD to be an effective pain reliever. CBD's effect on dosage levels means that there is less potential for liver and kidney damage as a result of NSAIDs usage. That has especially important implications for their long-term use.
CBD benefits for anxious dogs
Like their human counterparts, CBD may have benefits for canine anxiety. According to the National Institute on Drug Abuse, CBD may help dogs with anxiety. Whether in a stressful situation like the 4th of July fireworks or dogs with separation anxiety, CBD has plenty of potential for dealing with anxiety. In animal model studies, researchers found that CBD reduced anxiety-related symptoms and behaviors.
Canine epilepsy & CBD benefits
CBD also shows promise for canine epilepsy. In a pilot study by Dr. Stephanie McGrath, a neurologist at Colorado State University's veterinary teaching hospital, 89% of dogs that received CBD in a double-blind clinical trial experienced a lower frequency of seizures.
In January 2018, CSU launched a larger clinical trial of 60 dogs to study the effects of CBD on canine epilepsy. The study is funded by no less an august body than the American Kennel Club Canine Health Foundation.
Which CBD oil should I give my dog?
There are a lot of CBD oils and other products on the market, especially online. With each touting its benefits, it's difficult to know which product is best for our canine companions.
Consider the source of the CBD oil—most will claim to be hemp-based. What dog owners should look for is purity. Important questions to answer are how was the CBD oil extracted; what is the percentage the concentration of CBD by volume; and, is the THC level at or below 0.3% by volume?
Reputable retailers will make the results of their testing, a certificate of analysis, available. The outstanding retailers offer it, so you don't have to ask.
If possible, get organic CBD oil. Avoid hemp that has been raised using pesticides or fungicides. Also, avoid CBD that's been extracted using solvents. Let the pricing be your guide; a good rule of thumb is the more expensive the CBD oil is, the better the quality and purity.
Buy CBD for pets as an oil or tincture for better dosage control.
According to the American Kennel Club's chief veterinary officer, CBD benefits for dogs may also include cardiological benefits, nausea-fighting effects, and stimulating appetite. Indeed, the science looks promising.